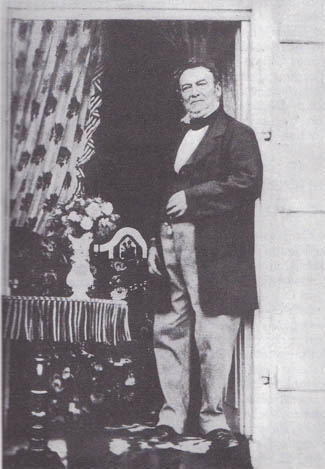 Son of a merchant of serinettes and violins, grandson of a locksmith, the best known organ builder of Mirecourt was born on March 29th 1793. He was placed as an apprentice in the workshop of Charles Rolin (1762-1814), a Mirecurtian organ builder who had married Catherine Jacotel on 7 February 1787. Catherine Jacotel was born in Châtenois (Vosges) in 1767 and came from the important family of Jacotel serinet builders, which included at least four members in the profession.
In 1813, N.A. Lété's father and brother-in-law opened a violin making shop in Paris to sell violins made in Mirecourt. On Rolin's death in 1814, the 21 year old Lété set sail for the United States and the West Indies, accompanied by three associates, to sell Mirecourt violins. There he repaired a few organs, notably in Havana, and made his fortune in the New World.
His father having died in 1819, Lété returned to France two years later to take care of the Paris shop. There he married in 1822 the daughter of the violin maker François-Louis Pique, and from 1825 to 1828 he was associated with the famous violin maker Jean-Baptiste Vuillaume, under the name "Lété et Vuillaume". It was in this workshop that the future organ builder Prosper-Antoine Moitessier worked in 1825-26. Moitessier was also Lété's first cousin, and their professional ties remained very close.
While building violins and cellos and selling Mirecourt embroidery, Lété became increasingly interested in organ building, coming into contact with Sébastien Erard and then with the English organ builder John Abbey, whom Erard had brought to Paris in 1826. In 1825 Lété applied the principle of the expressive box to cylinder organs, which earned him a medal of "Encouragement and Reward to Industry" in 1827. With these first successes, he left Vuillaume and took up organ building for good. In 1829 he experimented with the first transposing keyboard on an accompaniment organ for the Saint-Leu church in Paris. In 1831, the death of Erard and his mother decided him to return to Mirecourt.

In 1832 he founded an organ factory in his home town with up to twenty-five workers, including his foreman Jean-Joseph Orelle (1804-1866), inventor of the isopneumatic valves. Until 1841 he devoted himself almost exclusively to cylinder organs, one of the city's great specialties, of which he built 74 before 1848. On March 31, 1841, he was awarded a patent as "King's organ builder", which decided him to become more active in the construction of church organs.
Thanks to his commercial skills, his political support (he was related to the french minister Buffet) and perhaps his freemason connections, he quickly obtained important orders throughout Eastern France (Lorraine, Alsace, Champagne, Burgundy, Savoy). In the Vosges he built only four instruments between 1842 and 1845. Lété's career was rather short, due to poor health which forced him to retire early in 1854. He sold his workshop to Didier Poirot, while Antoine Filipowicz set up on his own.
Lété occupied his retirement by writing poems, not without continuing to use his inventive spirit: on May 2, 1862, he filed a patent at the Commercial Court of Mirecourt for a new type of pruning shears, called "Sécateur Lété", to which he added three wooden models. He died on 07 January 1872, in his house in Mirecourt.
Sources: Inventory of the Organs of Lorraine - Vosges