Aquarelle de François Clasquin - "Mirecourt Temps passés - Temps présents".
The Poirot family has been established in Mirecourt for more than three hundred years, the oldest known ancestor to date is Nicolas Poirot, born around 1630.
Lawyer at the Court, regent of the humanities, he married Claude Perot and died on November 14, 1713.
His son, Charles Pierre Poirot was born around 1686 and was also a lawyer at the Court. He married Françoise Poncet on 9 January 1712 and died on 27 July 1759 at the age of 73. Charles and Françoise have a son also named Charles who was born on May 12, 1717.
Below n excerpt from his birth certificate dated September 23, 1741.

Source: Archives Départementales des Vosges, 240J5
Charles will be like his father and grandfather, a lawyer at the Court of the Royal Bailiwick of Mirecourt.
In the inventory of the Departmental Archives prior to 1790 (ML Duhamel), one can read about the lawyer at the Court Charles Poirot: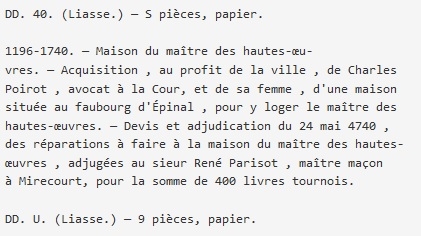 Digitisation by Google often presents typographical errors as shown by the date of "24 May" and is confusing.

Indeed, Charles Poirot married Marie Jeanne Bailli on September 3, 1743 as specified in their marriage certificate (AD des Vosges).

Charles is also Regent of the Humanities. As such it will be housed in the Evrot Sachot tower on rue du Bougeot as specified in the 1751 plan by JB Dubois (AD Meurthe and Moselle B-11-815).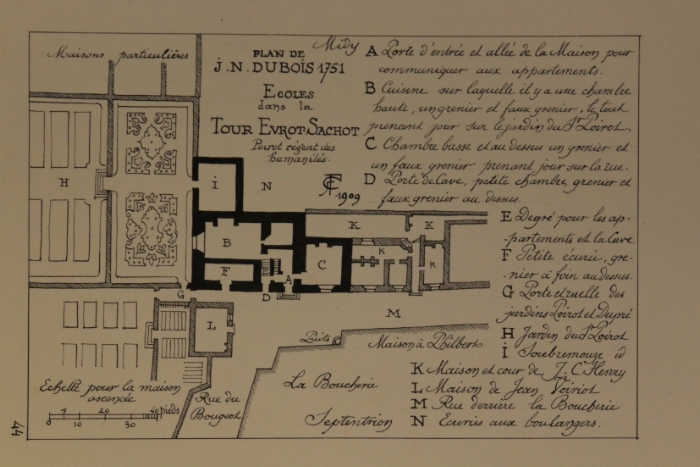 Plan reproduced by F. Clasquin in "Mirecourt Temps Passé Temps Présents", p44 and below, description of Sieur Poirot's house taken from page 60.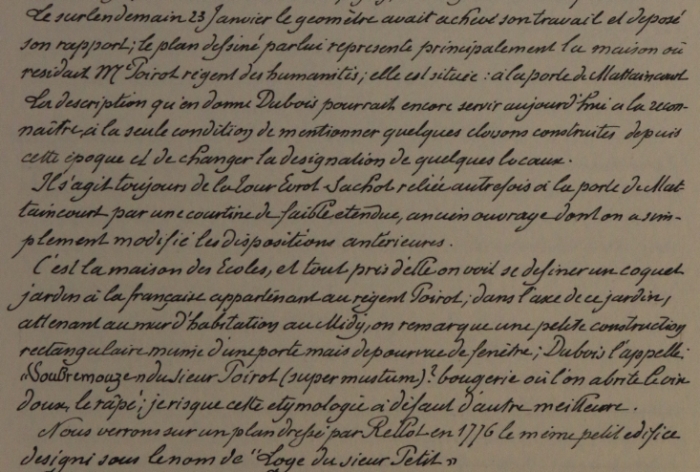 From this union Nicolas Poirot was born on September 9, 1749. Nicolas, merchant, is also a lawyer at the Court. He married Marie Françoise Denis on January 24, 1769.
Nicolas and Marie Françoise gave birth to the first organ builder of the family, Nicolas Poirot, who was born on August 31, 1771.
Nicolas Poirot (31st August 1771 - 4th June 1821)
On August 31, 1771 the first organ builder of the Poirot line was born. Nicolas married a lacemaker, Jeanne Nicolas in 1805 in Mirecourt.
Jeanne is the younger sister of Didier Nicolas, renowned luthier of Mirecourt as attested by the following documents:
Emperor Napoleon 1st presenting the medal
Documents extracted from the site
A report of the technological exhibition of 1884, mentioning the awarding of a bronze medal to Poirot-Frères (grandson of Nicolas), refers to the founding of the Poirot house in 1806. And according to the Annuaire français de la facture instrumentale, de l'édition musicale et des des industries qui s'y rattachent, First year 1913, Edited by Musique et instruments, below, the Poirot House was founded in 1812.